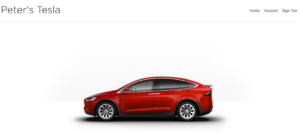 How time flies owning a Tesla Model X. Rumor has it that we were the first proud owner of Model X here in Kamloops. Another guy has since bought another Model X here. This post is for educational purposes and your benefit if you want a Tesla now or in the future.
Pickup experience
When we got the exciting call from Tesla that our Tesla Model X was in Vancouver in June 2017, we were given the option of delivery to Kamloops or self pick-up from Vancouver. We chose to take a trip to Vancouver because of two things – take a mini-weekend trip to and get the chance to test-drive the car through Vancouver and Coquihalla Highway.
At Tesla showrooms in Vancouver, we were served light refreshments and my daughter had the chance to test ride the Tesla Model S for Kids. The staff were prepared with our paperwork and we were on our way with our new ride in no time. Needless to say it was the best experience of buying a car.
For the ~348 km journey back to Kamloops, we familiarize ourselves with the Superchargers in Hope and Merit. Since we were Tesla rookies back then, our new car warned us about reducing our speed to 90 km/hour to make it to the next charging station in Merritt. I don't think we charged it enough before we left Hope. Overall, the delivery/pick-up experience couldn't have been better than anything else.
Range experience
One of the most common questions I get asked mostly is – how far can you go? Well this can vary depending on the model for your electric car. In the summertime, we can travel from Kamloops to Langley having to stop for about 30 mins in Hope. If you care about the numbers, we get a range of ~385 km. Usually we don't pay too much attention to the number of kilometers, only for calculating how much charge we need to get to the next Supercharger or charging station.
For the winter time, we have taken 2 trips over the winter season to the Lower Mainland. We usually stop at Merritt for quick top-up for 5-10 minutes at the Best West Plus hotel charging station before climbing the mighty Coq. We use this time to take a family bathroom break. They have a very clean bathroom. We thank the folks there for providing a good bathroom experience, if you get my drift.
City driving/charging
Fortunately, we were doing some renovation work at our home at the time we placed the order for the Tesla. We have a 240V charging point that gives us 35 km/hour of charge. Since we mostly go to the office and do errands in the weekend, we use about 50 km per day. We just treat the car like our phone – plug in every night and we never run out of juice. 😉
Affordability
Tesla cars are for sure on the pricey side. We were already in the market for SUV/AWD. So the decision came between an Infiniti QX80 and Tesla Model S. Yes – you read that right – we were comparing a gas SUV to an electric sedan. After a lot of price comparison and the wife nudging me in the direction of SUV, we settled for the Tesla Model X. In my opinion, Model X is more suitable for family use than a Model S because of the large falcon wings doors.
If the price is out of reach for you, don't say "I can't afford it". Ask "how might I afford it?" You can consider investing your money into rental properties to get some rental income and do some consultancy on the side. At least that's what we did to get rid our our old 2004 Infiniti G35 that was causing a lot of wear and tear with huge repair bills. Life is too short for you not to get what you want.
What I love about our Tesla
I'm just going to name them. I love the sexiness, software updates, coming to a warm/cool car, heated seats, Easter egg such as Santa mode, the 17 inches screen, auto high-beam for night driving, auto wiper speed, instant acceleration, Summon mode for demonstration and of course the semi-autonomous driving for highways. Oh yes, one more thing I love is I can be a better gentleman to my wife by opening the passenger's door by the push of a button on the 17 inches screen. Yes! Yes!!
What I don't like about our Tesla
I'm going to name them too. I don't like finishing of the back windows, finishing of the silver trims, frozen doors on a very cold morning when parked outside and doors refusing to open even with no visible obstruction.
Referrals and Save
My intention with this article has been to inform you of our experience so far owning a Tesla Model X. If for some reason, you are convinced you want a Tesla, you can get a free unlimited supercharging on either Model S or Model X using my personal referral link – http://ts.la/peter4442. What do I get if you use my referral link? You get to gift my beautiful daughter a Tesla Model S for Kids she can drive around our home. Thank you.